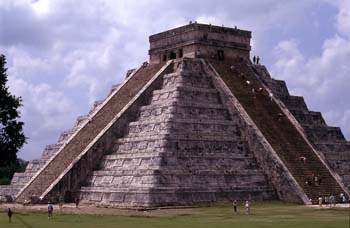 T= Travel agent
C= Customer
T: Good morning. Can I help you?
C: Yes, I hope so. We are looking for a honeymoon holiday, we want to travel to an exotic destination.
T: Ok, great! Have a seat and we'll see what we can do. What exactly would you like?
C: We would like to get a good offer , we want something not too expensive… Can you show me brochures of exotic destinations?
T: Ok, let's see these brochures… I would choose Rivera Maya or Cancún because you can get a special offer now and the Mexican culture is fascinating.
C: What do they include?
T: All is included.
C: Oh, perfect! We want to relax on the beach but we like to be active on holiday too.
T: In my opinión you should practice sports there. How about practicing ''snorkel'' in the Caribbean sea?
C: That sounds good. How can we do that?
T: Your best option is to contract the special services in the hotel. You can choose the activities that you want to do in Mexico.
C: Ok.
T: Have you thought about visiting the most important monuments in México? If I were you I'd visit Chichén Itzá. It's amazing!
C: Oh, yes! That would be great! We are going to think about all. Thank you very much! You have been very helpful.
T: You're welcome, I hope to see you soon!
Image from
here