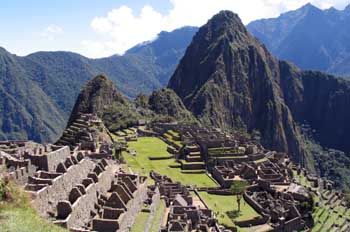 C= Client A= Travel Agent
A: Hello. Can I help you?
C: Hello, good morning! Yes! We would like to travel to South America.
A: Okay, what kind of trip are you looking for?
C: We are interested in an adventure holiday.
A: I think it is a good election! Peru is a fantastic place to visit. You can go to Machu Picchu and then you can relax. I recommend it!
C: Okay. Peru is perfect!. But ... Is it possible to go in summer?
A: Yes, there's no problem. How long? And… how much can you spend?
C: We want to stay for three weeks if it's possible. Money is not relevant.

A: Okay, so three weeks in Peru. I hope you have a good time.
Image from
here